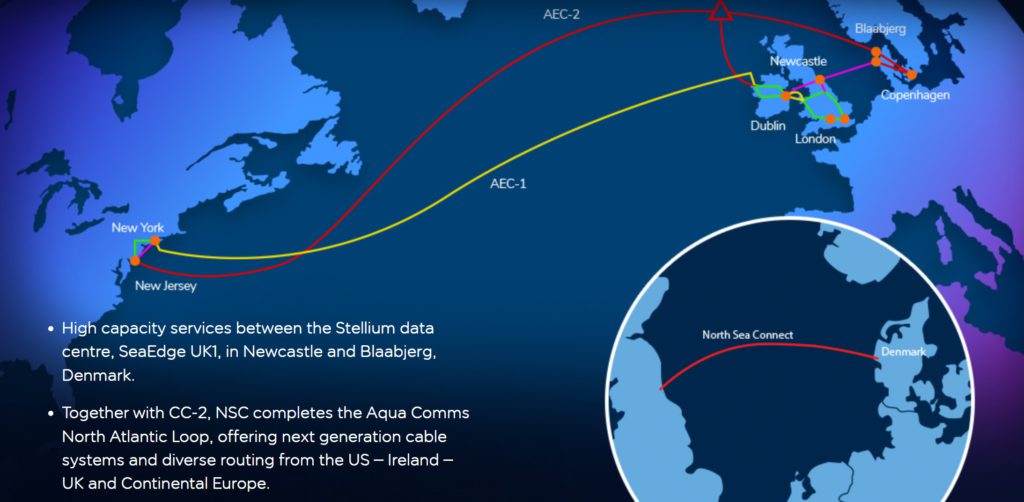 Partnership enables international subsea cable provider Aqua Comms to provide customers with cost-effective access to an extensive global interconnection ecosystem that runs from the U.S to the UK (landing at Stellium Newcastle) and on to mainland Europe.
NEW YORK, June 28, 2023 (GLOBE NEWSWIRE) — Aqua Comms, a leading provider of global subsea connectivity services, announces the expansion of its interconnection capabilities in the United States, through partnership with NYI , a leading provider of hybrid infrastructure, network and interconnection services. The expansion will be facilitated at two New York interconnection facilities — Long Island Interconnect (formerly 1025 Connect) in Westbury, Long Island, and NYI-QTD , a joint venture between NYI and QTD Systems at 60 Hudson Street in New York City.
These sites, due to their strategic locations and wealth of established telecom assets, serve as complementary interconnection hubs where Aqua Comms can seamlessly support the needs of its customers. The fiber-rich locations are particularly suited to serve the needs of international carriers and cloud-based networks who are looking to interconnect and make the most impact in the dense New York market as well as end users in industries that rely on high-performance, low-latency networks. Both facilities offer secure, resilient, and cost-effective infrastructure for connectivity needs and benefit from access to NYI's high-touch managed infrastructure services.
"We are delighted to be working with NYI to grow our U.S. interconnection offering," said Chris Bayly, CCO, Aqua Comms. "As a smaller, agile interconnection provider with exceptional capabilities and experience in the New York metro area, NYI has been able to provide us with a flexible way to gain access to the broadest ecosystem of interconnection capabilities in the most cost-effective way. As our business evolves, having a local interconnection partner who can help us connect the dots and achieve efficiencies is invaluable in enabling us to provide our customers with affordable solutions."
Long Island Interconnect is integral to Aqua Comms' U.S. offering as it is situated close to the Shirley cable landing station where Aqua Comms' AEC-1 cable, the most advanced 'next-generation' undersea cable system linking the US to Ireland and the UK is housed. The facility also delivers access to Aqua Comms' AEC-2 and AEC-3 trans-Atlantic systems through to Ireland, the UK and the Nordics providing critical infrastructure to key data center markets as well as a range of terrestrial networks and exchanges, making it an attractive and versatile connectivity hub for carriers and enterprises looking to expand their network reach.
Similarly, the NYI-QTD1 facility (formerly Equinix NY8) at 60 Hudson Street, one of New York City's original carrier hotels, offers Aqua Comms customers, near limitless connectivity at reasonable costs, with access to more than 300+ carriers through NYI's robust in-building conduit system which provides access from basement to the roof.
"NYI is thrilled to facilitate the critical requirements of a global connectivity provider like Aqua Comms who is committed to next generation technologies and working hard to meet the accelerating demand for interconnection," adds Phillip Koblence, Co-Founder and COO of NYI. "Having Aqua Comms present at both Long Island Interconnect and 60 Hudson adds new options to the New York interconnection ecosystem."
The partnership will support not only the carrier community but also the various end users across industries who leverage them. Likewise, existing Long Island Interconnect and NYI-QTD customers can benefit from Aqua Comms' trans-Atlantic subsea cable capabilities.
About Aqua Comms
Aqua Comms is a leading provider of global subsea connectivity services delivered through an extensive portfolio of owned and operated subsea systems. Aqua Comms offers connectivity networking solutions including managed capacity services, spectrum and dark fiber to the global content, cloud and carrier markets.
To learn more about Aqua Comms and its portfolio of connectivity networking solutions visit www.aquacomms.com .
In April 2021, Aqua Comms DAC was acquired by Digital 9 Infrastructure plc (DGI9), an LSE listed investment trust managed by Triple Point Investment Management LLP. The Company invests in the infrastructure of the internet that underpins the world's digital economy. The number 9 in Digital 9 Infrastructure comes from the UN Sustainable Development Goal 9, which focuses the fund on investments that increase connectivity globally and improve the sustainability of digital infrastructure. To learn more about D9 visit www.d9infrastructure.com .
About NYI
NYI is a global provider of hybrid infrastructure, network, and interconnection solutions. The company is known for cutting through the complexity of the IT landscape and facilitating custom solutions to address the critical infrastructure and connectivity needs of clients across industries. NYI is headquartered in New York City and provides enterprise services into key global markets through a trusted ecosystem of partners. To learn more about NYI, visit www.nyi.net or follow NYI on Twitter or LinkedIn .
Media contact: Iromie Weeramantry, marketing@nyi.net
About Long Island Interconnect
Long Island Interconnect (formerly 1025Connect) is the premier, carrier-neutral interconnection facility on Long Island with direct access to subsea cable systems and a global Internet Exchange. Located at the crossroads of the region's most critical intercontinental Internet traffic routes, Long Island Interconnect offers a full range of connectivity and infrastructure solutions as well as managed service options. Visit our solutions page for more information.