Newcastle, 14th September 2021 – Stellium Data Centres, the UK's largest purpose-built and one of the fastest-growing co-location and network providers, has established a new Scotland office in Aberdeen. This comes as part of its growth strategy for the North UK.
This is a key strategic move on the part of Stellium to focus on its developing Scottish market. It aligns well with the evolving macro data market in the North UK both regionally and internationally. The developments in submarine networking in the north UK with the Denmark-UK North Sea Connect and Norway-UK NO-UK subsea cable systems at Stellium, and the new systems arriving in Scotland, have led to the North UK becoming one of the best-connected hubs in Europe.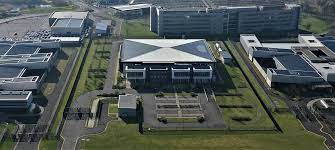 Stellium owns and operates the largest purpose-built data centre campus in the UK.  Located in Newcastle, the campus houses three separate Tier 3+ centres. The landing of the North Sea Connect and NO-UK subsea systems into Newcastle, which enables high-speed connectivity to Denmark and Norway and beyond, further enhances the connectivity proposition of Stellium and the NCL-IX (Newcastle Internet Exchange) hosted there. These also afford companies using Stellium to access superfast transatlantic digital links offering faster and more reliable connections.
Gerry Murray – Chief Operating Officer at Stellium, commented: "This is an exciting time for Stellium as the company continues to experience rapid growth. Stellium is committed to being part of the growth of the Scottish ICT sector, the enhancement of the Scottish data centre proposition and national and international connectivity in the region".
About Stellium Data Centres
Stellium owns and operates the largest purpose-built carrier-neutral data centre campus in the UK and is the home of the UK's newest Internet Exchange NCL-IX.
Stellium's Tier 3+ data centre campus has guaranteed availability of at least 99.982%, is ISO-27001, ISO-14001, ISO-9001, ISO-20000, ISO-22301, PSN Network and Cyber Essentials+ certified, with direct access to sustainable power.
Stellium offers the highest quality connectivity to local, national, and global fibre networks, for low-latency, high-capacity open network connections. In addition to being the UK's only data centre hosting the cable landing station for the new NO-UK cable from the Nordics, Stellium's data centre is also the UK hub for data transmitted between the United States, the UK and Europe on the North Atlantic Loop, a new transatlantic subsea fibre network provided by Aquacomms.
Stellium offers its clients a range of custom services, including cloud-based delivery of applications and services, co-location services and powered-shell data centres.
Follow and chat with Stellium Data Centres today on LinkedIn.
To book a guided virtual tour of our data centre please see here: https://bit.ly/3sXBXVC
To speak to a member of the team about our services, please email or call us today on:
Scotland Office:
Stellium Data Centres
6 International Avenue
Cirrus Building
ABZ Business Park
Aberdeen
AB21 0BH
Office Phone: 01224 920935
Greig Scott (Scotland Sales)
Mobile: +44 07570 710194
Email: greig.scott@stelliumdc.com
Newcastle Data Centre Campus:
9 Cobalt Park Way
Cobalt Business Park,
Newcastle Tyne & Wear,
NE28 9EJ
Office Phone: +44 191 3897 130
Email: info@stelliumdc.com
Web: www,stelliumdc.com