Global Submarine cables such as those which land at Stelliums Newcastle data centre play a crucial role in connecting data centers to the global internet. They provide high-speed, low-latency connectivity that enables the flow of large amounts of data between data centers, businesses, and end-users.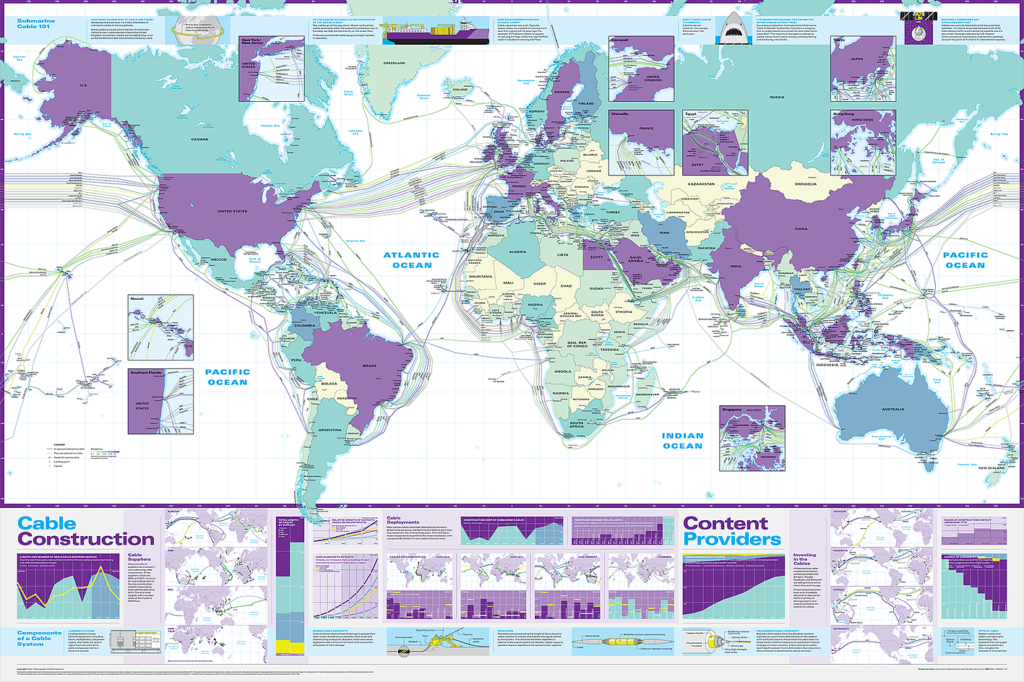 Data centers located in areas near to the landing stations of submarine cables are more likely to have better data centre connectivity and higher internet speeds, making them more attractive to companies that rely heavily on internet connectivity for their operations. At Stellium, the cables land directly inside the secure data centre making Stellium unique in the UK amongst data centres and landing stations, providing additional security and resilience for our customers.
Submarine cables provide diversity and redundancy in data centre connectivity, reducing the risk of service disruptions due to cable cuts or natural disasters. This is especially important for data centers such as Stellium that need to ensure high availability and uptime for their customers. It allows us to provide a guaranteed availability of at least 99.982%.
Data centers can also use submarine cables to connect to other data centers or cloud providers in different regions, enabling them to leverage the benefits of distributed computing and cloud services. This can help data centers reduce costs, improve performance, and increase resilience.
Overall, submarine cables play a vital role in the global network infrastructure, providing the backbone for data center connectivity, and enabling businesses to connect and operate globally.
Stelliums Northern Powerhouse location in Newcastle has emerged as a major UK interconnection hub as Stellium is the secure UK cable landing station for the new international subsea cables from Aqua Comms (to/from the USA), and the new Nordic subsea cables from NO-UK (to/from the Nordics and Mainland Europe).
NO-UK, a state-of-the-art submarine cable system between Norway and the United Kingdom (UK), has recently achieved a record-breaking 800Gb/s line rate. This allows it to deliver its customers greater capacity, faster speeds and a greener offering through lower energy consumption.
NO-UK's open submarine cable system, featuring eight fibre pairs, runs for 700km between Stavanger (Norway) and Stellium Newcastle (UK) and is the shortest low-latency direct submarine route between the two nations. The design and cable validation exercise was conducted according to the new International Telecoms Union (ITU) submarine cable standard for open cables, known as ITU-T G.977.1.
Aqua Comms have continued their investment in subsea cables by joining the HAVFRUE consortium to create the 'North Atlantic Loop' and AEC-2. AEC-2 complements and enhances the AEC-1 network to create a resilient, ring-based infrastructure providing the highest availability between the East Coast of the U.S., Ireland, the UK (landing at Stellium Datacenters) and Northern Europe. Aqua Comms offers Capacity Services, Managed Spectrum, Fibre Pair Solutions & Professional Services throughout their network. They are happy to offer their services across multiple systems to offer true diversity, but can provide these services on a single system to suit customer needs.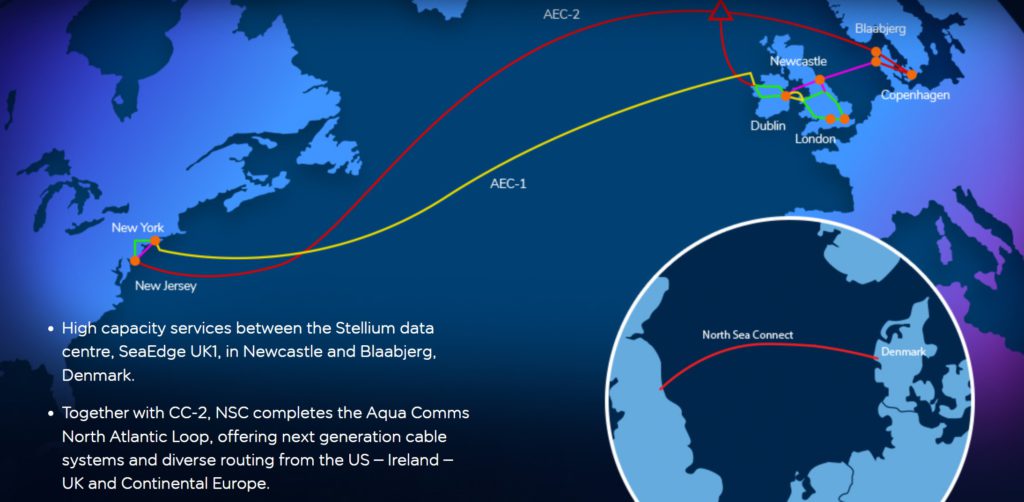 Use of Global Subsea Cables continues to grow rapidly
Over the next three years, we could see more than 60 new cables constructed totalling over 290,000 km in length. 
Content Providers accounting for less than 10% of total cable usage prior to 2012 have surged to 66% in 2020. Unlike previous cable construction booms, content providers like Amazon, Google, Facebook, and Microsoft are taking a more active role in this recent surge and the decision of where these cables land is of vital importance to growing business security concerns. Stellium, unique in the UK as a data centre landing station has been set up to allay these concerns.
Contact us today for further information.