Wednesday 16.03.2022 Newcastle:
The operator of the UK's largest purpose-built datacentre campus is to host an event to showcase how the facility can support the energy industry as the oilfield continues to digitise.
Stellium Datacenters which has an office in Aberdeen, is holding the virtual event on Wednesday, 13 April to showcase to oil and gas businesses how datacentres can support data demands at drill sites and onshore. The event will be streamed online from the firm's state-of-the-art Tier 3 datacentre in Newcastle, which also hosts the Newcastle Internet Exchange (NCL-IX).
The event is being held in partnership with global infrastructure and connectivity provider BSO and the London Internet Exchange (LINX), one of Europe's largest internet exchange points.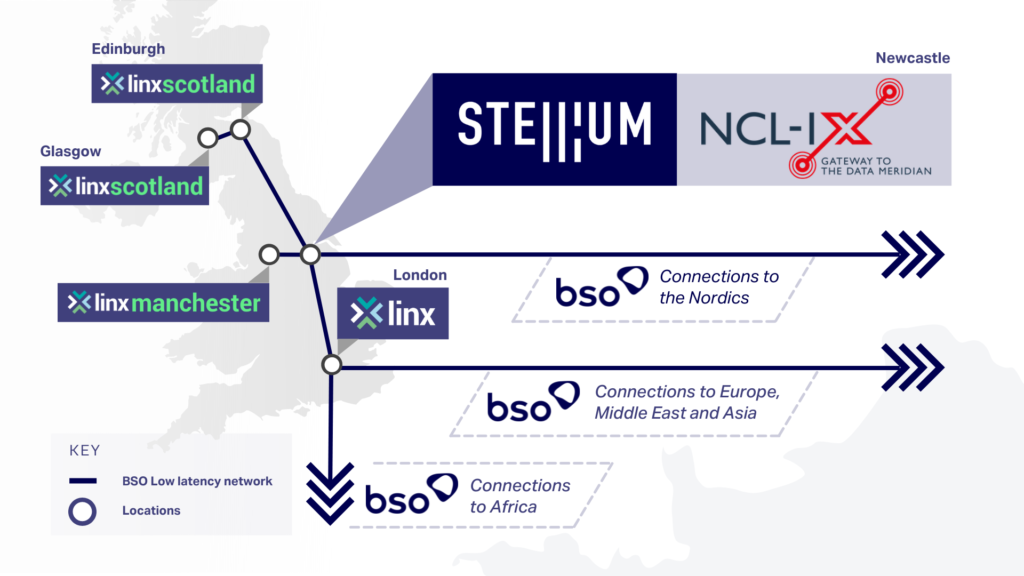 Attendees to the afternoon event, which is titled 'Utilising future networks and sustainable colocation to drive digital transformation for the energy sector', will hear first-hand the innovations being created by Stellium, BSO and LINX. Industry leaders will also deliver presentations exploring the goals and challenges facing the energy sector in relation to managing data between international teams, smart working, innovation and meeting green expectations.
An increase in the number of internet connected devices and sensors being used in the oilfield has led to a surge in the volume of data being generated. In turn, this is driving demand for high-performance data storage and processing. Datacentres and ultra-low latency networks, like that offered by BSO, can enable the real-time processing of such data to generate insights that can be shared globally and ultimately improve operational efficiencies.
Stelllium Datacenters, BSO and LINX are working in partnership to provide a digital solution that can securely and efficiently manage, store and transfer large volumes of data for customers. In addition, access is also facilitated to the UK's newest submarine data cables from Aquacomms and Altibox / NO-UK, connecting NCL-IX to North America and Nordic countries respectively with the lowest latency available.
Greig Scott, at Stellium and NCL-IX said,
"Having worked within the datacentre and telecommunications industry and being based in Aberdeen for over 15 years, I have seen the challenges faced by energy services companies in co-locating, connecting and sharing data across hard-to-reach global destinations. The requirement for immediate availability of key data operationally, data transfer locally and internationally and Big Data analysis present significant challenges for the energy sector. The resources, tools, and services of the Stellium, LINX and BSO partnership address these concerns.
"At Stellium, we offer the availability of high-quality, on net Sustainable Datacentre capability and networking. Stellium's proximity to the UK energy sector and the rich connectivity options available there enable this.
"In this event we will endeavour to explain a new joined up approach for the sector where attendees will have an opportunity to engage directly with industry peers facing the same issues and see first-hand the new innovations being created during this time of digital and green transformation."
Halil Kama, Interconnection Specialist for LINX said,
"We are excited to be working with Stellium and BSO to support the energy sector as they plan and evolve into a more digital network setup. By connecting to our interconnection platforms in London, Manchester or Scotland, networks can meet other crucial networks including ISPs and set up direct peering arrangements securely for redundant data transfer. This is a new audience for LINX, but an important one and we feel that working with our partners we can ensure a smooth and future proof transition for these networks."
Matthew Lempriere, Head of UK, Asia, Middle-East at BSO said,
"Energy firms require connectivity services to support the transportation of their business critical data to the most remote of locations where fibre is limited and a challenge. With few viable options for connectivity, they need highly sophisticated, bespoke solutions which can involve re-designing their entire telecoms network to integrate with new systems. This is a slow and costly process that can expose the business to performance vulnerabilities. BSO's global connectivity works "hand in glove" with LINX and Stellium Peering and co-location offerings to provide a comprehensive solution to the Energy sector. We are happy to be jointly hosting this event that is focused specifically on the challenges of this industry."
For further information about the event and to register, visit https://bit.ly/3hUSvZJ

– ENDS –
About Stellium Datacenters
Stellium operates the largest purpose-built carrier-neutral data centre campus in the UK and is the home of the UK's newest Internet Exchange NCL-IX.
Stellium's Tier 3+ data centre campus has a guaranteed availability of at least 99.982%, is ISO-27001, ISO-14001, ISO-9001, ISO-20000, ISO-22301, PSN Network and Cyber Essentials+ certified, with direct access to sustainable power.
Stellium offers the highest quality connectivity to local, national, and global fibre networks, for low-latency, high-capacity open network connection. In addition to being the UK's only data centre hosting the cable landing station for the new NO-UK cable from the Nordics, Stellium's datacentre is also the UK hub for data transmitted between the United States, the UK and Europe on the North Atlantic Loop, a new transatlantic subsea fibre network provided by Aquacomms.
Stellium offers its clients a range of custom services, including cloud-based delivery of applications and services, co-location services and powered-shell data centres.
Follow and chat with Stellium Datacenters today on LinkedIn.
To book a guided virtual tour of our datacentre please see here: https://bit.ly/3sXBXVC.
To speak to a member of the team about Stellium and NCL-IX services, please email or call us today on:
Scotland Office:
Stellium Datacenters
6 International Avenue, Cirrus Building
ABZ Business Park
Aberdeen, AB21 0BH
Office Phone: 01224 920935
Greig Scott (Scotland Sales)
Mobile: +44 07570 710194
Email: greig.scott@stelliumdc.com
Email: info@ncl-ix.uk
Email: info@stelliumdc.com
Web: www.stelliumdc.com