Colt Technology Services connects Stellium Datacenters Newcastle directly with NJFX New Jersey over its new transatlantic backbone route.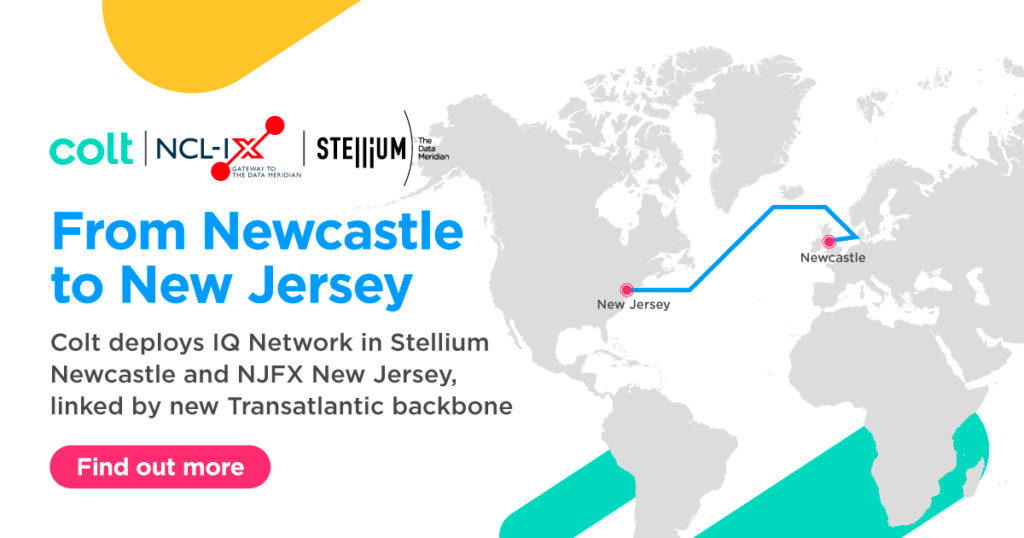 London, UK 31 May 2023– Colt Technology Services, the digital infrastructure company, today announced the expansion of its transatlantic capabilities with the launch of a new subsea backbone between Stellium Datacenters in Newcastle, one of the UKs largest purpose built data centre campuses and home of the Newcastle Internet Exchange (NCL-IX),and NJFX in New Jersey, USA.
This latest extension of Colt's IQ Network is part of Colt's continued investment in global network infrastructure. The new transatlantic route gives businesses greater choice, security and flexibility as they seamlessly connect economic and commercial hubs in Europe and the US across Colt's award-winning digital infrastructure.
Having launched as a new IQ Network location at Stellium in June 2022, Colt delivers on-net services to Stellium Datacenters tenants, and connects to commercial locations across Newcastle, joining the north-east region to Colt's global communications network connecting 222 cities throughout the UK, Europe, Asia and North America. Colt's presence at Stellium offers fully managed services of up to 40Gb for IP and Ethernet, and up to 400Gb Optical Wave products.
Colt's new high-capacity, resilient backbone over Aquacomm's Havfrue / AEC-2 cable from Stellium Datacenters to NJFX is a critical part of the expansion. The addition of a new transatlantic option over the Colt IQ Network provides customers with a greatly diversified route. By exiting the UK from Newcastle and entering the United States via New Jersey, Colt now offers a highly diversified path as an alternative Atlantic crossing.
The strategic move offers organisations such as capital markets firms and enterprises access to Colt's wider portfolio of digital services and solutions, supporting their global digital transformation journeys and helping them accelerate plans for growth.
Please contact us directly at the contact box at the bottom of this page to speak to our dedicated Data Centre and Network Team
About Colt Technology Services
Colt Technology Services (Colt) is a global digital infrastructure company which creates extraordinary connections to help businesses succeed. Powered by amazing people and like-minded partners, Colt is driven by its purpose: to put the power of the digital universe in the hands of its customers, wherever, whenever and however they choose.
Since 1992, Colt has set itself apart through its deep commitment to its customers, growing from its heritage in the City of London to more than 60 offices around the world. The powerful Colt IQ Network connects 222 cities and 32 countries with more than 1000 data centres, 51 Metropolitan Area Networks and over 31,000 buildings across Europe, Asia and North America's largest business hubs. Privately owned, Colt is one of the most financially sound companies in the sector.
Obsessed with delivering industry-leading customer experience, Colt is guided by its dedication to customer innovation, by its values and its responsibility to its customers, partners, people and planet.
For more information, please visit www.colt.net
Colt announces strategic expansion from Newcastle to New Jersey